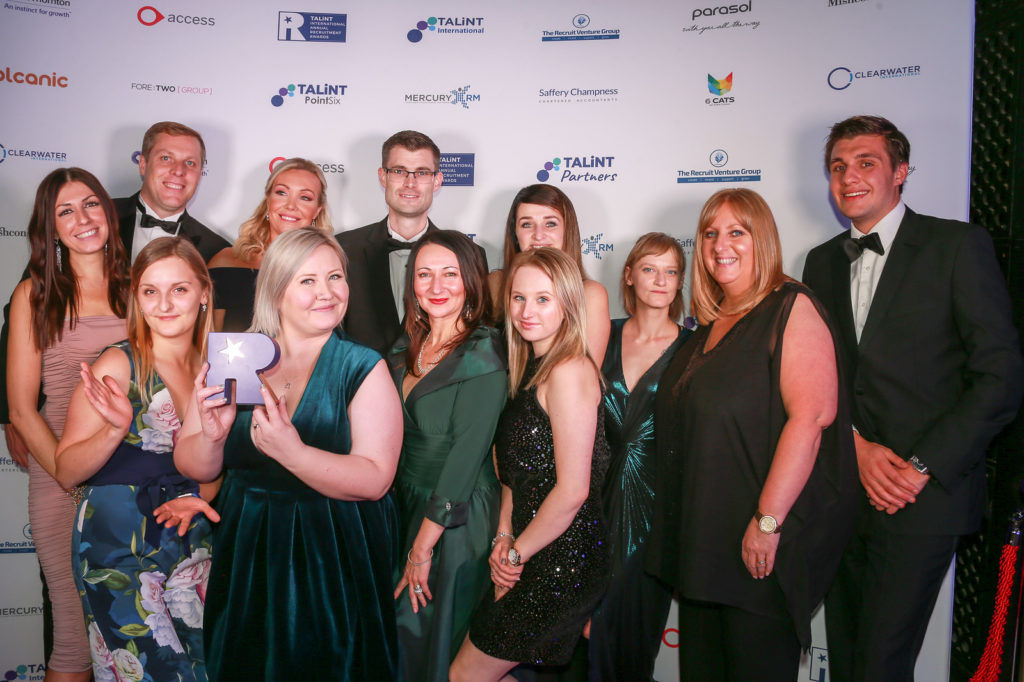 Recognition, Credibility & Prestige
The TIARAs recognise excellence, innovation and growth in the recruitment sector across 16 award categories. Celebrate with your peers and top performers.
Cost to attend: £100 + VAT per ticket*
*Please note that POINTSIX members qualify for complimentary tickets and one senior finalist representative qualifies for a free ticket and Celebration Package if the award category is sponsored.
The Back Office Team of the Year
This Award recognises an exemplary team within any back-office function that has enabled or best supported growth, innovation, or performance. Our 2020 Finalists are:
The SourceBreaker Client Service Award
This award recognises excellence and collaboration in the delivery of talent acquisition project or ongoing campaign. Our 2020 Finalists are:
The Access Group Tech Transformation Award
This award recognises the best use of technology in a recruitment company to gain a competitive edge based on a measurable improvement in candidate experience, client service, and employee engagement. Our 2020 Finalists are:
The Fore:Two Group Candidate Service Award
This award recognises excellence, innovation and impact in the way candidates are sourced, managed, and supported to ensure the best outcome for candidates. Our 2020 Finalists are:
The Diversity and Inclusion Award
This award recognises the commercial and cultural impact of policies and initiatives to promote greater diversity and inclusion for their employees, clients and candidates. Our 2020 Finalists are:
This award recognises the best examples of innovation and improvement that have had an impact on the business, its market sector, or the wider industry. Our 2020 Finalists are:
The Marketing Campaign of the Year
This award recognises the best end-to-end marketing initiative that can demonstrate excellence and innovation in conception, execution and results. Our 2020 Finalists are:
The Clearwater Growth Recruitment Company of the Year
This award recognises an impressive track record of sustainable growth in sales, profit, headcount, and client base. Our 2020 Finalists are:
The 6Cats International Recruitment Company of the Year
This award recognises those who have demonstrated sustainable growth in international sales, profit, headcount, and customer base. Our 2020 Finalists are:
The Grant Thornton Specialist Recruitment Company of the Year
This award recognises market leaders in a niche sector who can demonstrate the best growth, depth of knowledge, and differentiation from competitors. Our 2020 Finalists are:
The Parasol Temporary Recruitment Company of the Year
This award recognises financial and market growth as well as excellence and innovation in sourcing, supporting and placing the best candidates. Our 2020 Finalists are:
The Gambit Corporate Finance Best Recruitment Company to Work for (£5m to £20m)
Open to any recruitment company with a UK net fee income between £5m and £20m, this award recognises employers of choice in recruitment who can demonstrate innovation and impact in their attraction, induction, development and retention of talent. Our 2020 Finalists are:
The Best Recruitment Company to Work for (£20m to 50m)
This award recognises employers of choice in recruitment who can demonstrate innovation and impact in their attraction, induction, development and retention of talent. Our 2020 Finalists are:
The Best Recruitment Company to Work For (£50m+)
Open to any recruitment company with UK net fee income of £50m and above, this award recognises employers of choice in recruitment who can demonstrate innovation and impact in their attraction, induction, development and retention of talent. Our 2020 Finalists are:
The Mishcon de Reya Recruitment Leader of the Year
This award recognises a visionary recruitment leader who has achieved exceptional growth, pioneered transformational improvement – in their business or industry – and inspired the highest levels of engagement and performance from their people. Our 2020 Finalists are: